From the Dashboard, click on Create a new claim.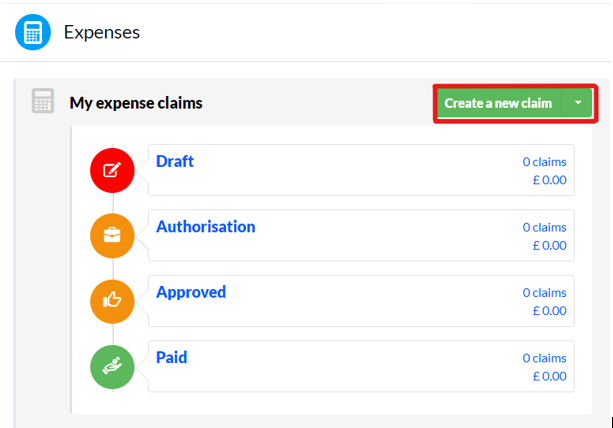 On the next screen complete the Purpose of claim and then click Add a claim line.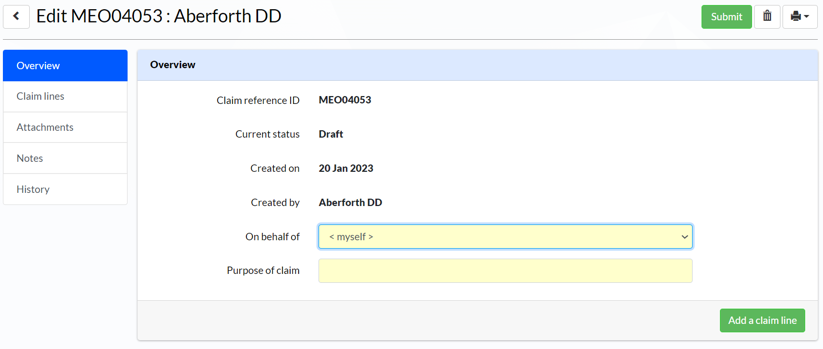 Once you have filled in the yellow mandatory fields with the necessary details.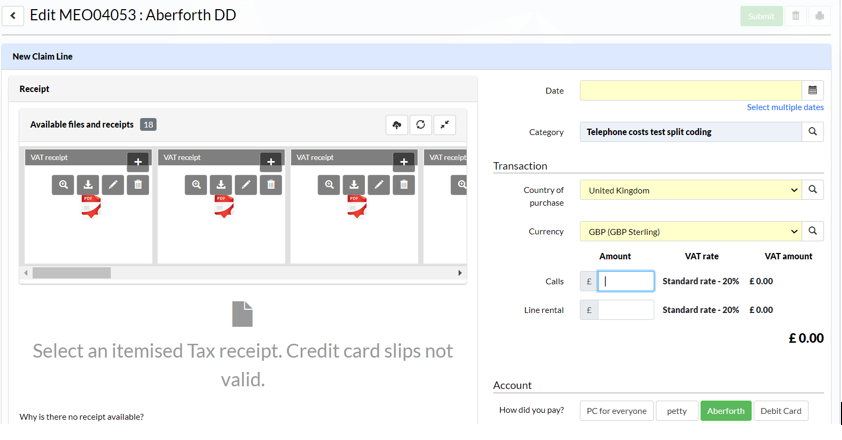 Any claim limits set by your organisation will be displayed here.
If a receipt is required for split coding on split category, then the reclaimable VAT will remain 0 until a receipt attachment has been added. If a receipt is attached, then the VAT will be calculated based on the category default. If a receipt is not required, then the default VAT calculation will be applied.
You can view/add receipts available to add to the claim, or a new receipt can be uploaded whilst creating a claim. To upload a receipt whilst creating the claim you can use the Upload icon in the Available files and receipts area.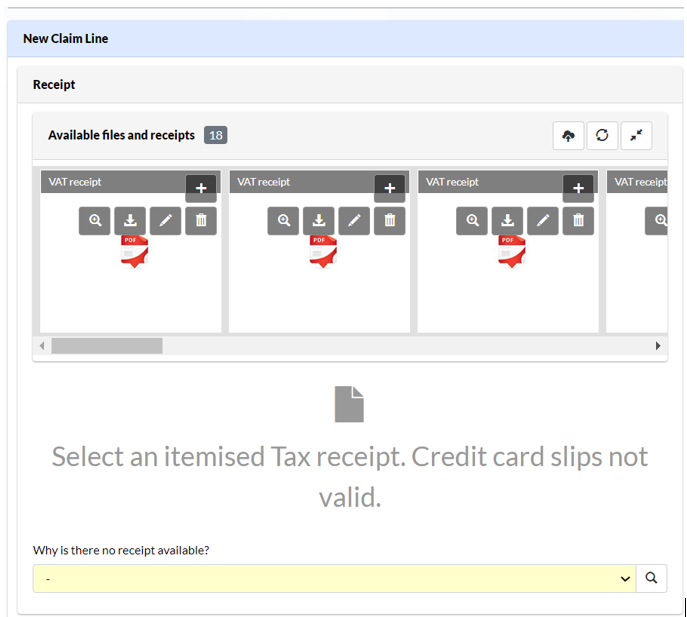 Now the mandatory fields have been filled out enter your coding.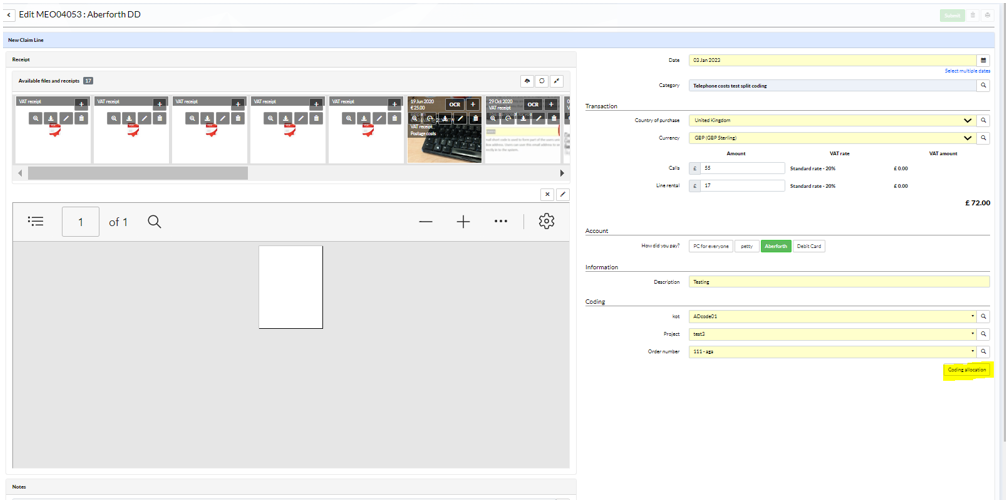 To split the coding, you need to select 'Coding Allocations, the coding that has been populated on the claim line will show in the coding allocations section.
The coding entered on the main claim line screen has manually split on the coding allocations screen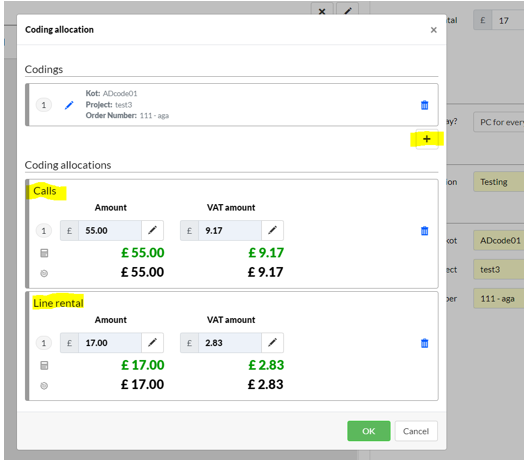 To split the cost over more coding's you need to click on the 'plus icon' highlighted on above picture.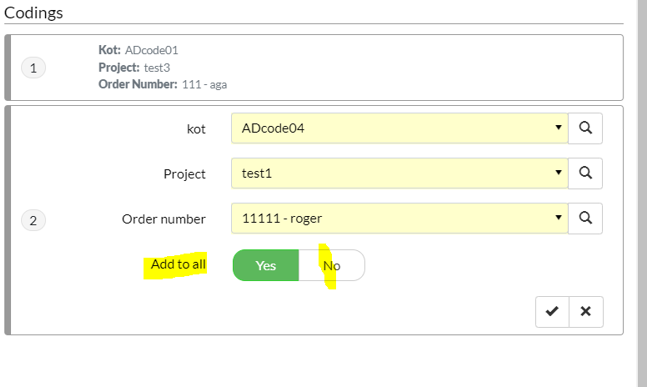 When adding another coding for the cost to be split over you have a choice to split the code to all or not.
If 'Yes' has been selected the coding will split between all lines.
If 'No' the coding will not be split by all lines.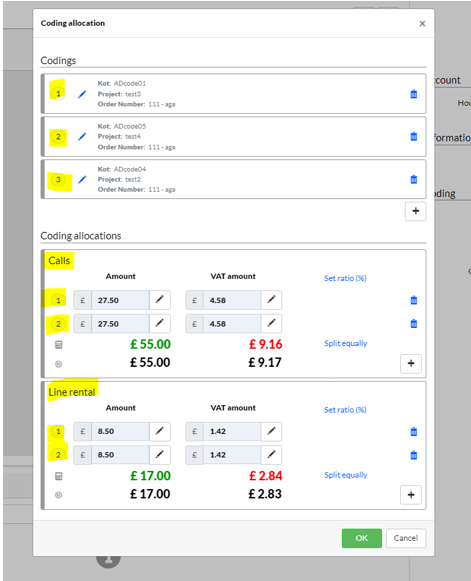 As showed on the above screenshot the coding 3 not allocated as we have set the 'add to all' setting as 'NO' whereas coding 1 and 2 have been allocated as we selected 'YES'. To allocate coding 3 you can click on the Plus icon in the child category you wish it applied to. A pop up will show allowing you to select the code from a list of codes not allocated to that category.
You can manually enter the value to be applied to each coding. Alternatively, 'Set ratio (%)' will enable you to insert a percentage by each coding/amount and allows it to be automatically split to its chosen percentage amount.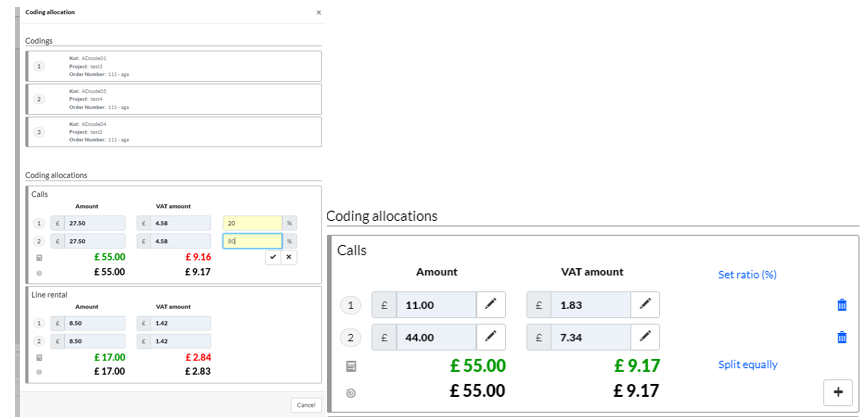 Split equally – Enables you to split equally coding, the amount and VAT would need to be manually updated.

Red valued amount – This means that the Amount/Vat Amount is different from the total amount and needs to be adjusted.
Green valued amount – This means that the total amount is correct.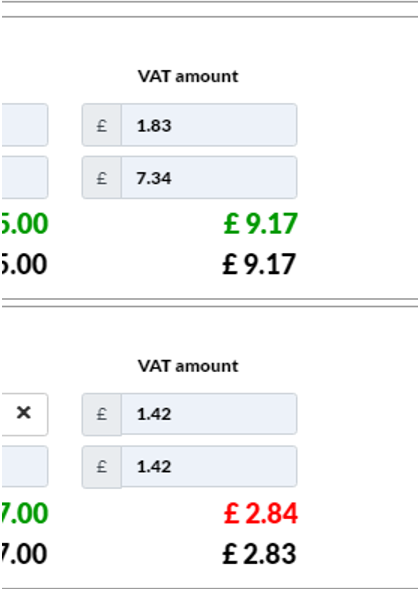 If you are happy with the allocated coding save the claim line.