Main Administration Area*
The main administration screen for DriverCare is accessed from the side menu, under DriverCare and Management.
The DriverCare administration screen provides a summary of all DriverCare activities in 5 areas; Document checks, Manual Documents, Vehicle Tax & MOT, Driving Licences, and View and approve documents.
Document Checks

This area allows you to manage the checks carried out by the system, and see any available credits. Use the links below for more information.
Manual Documents
This section shows a summary of all the documents required from users and for vehicles.
Vehicle Tax & MOT
All of the vehicles listed here are included in the automated tax and MOT checks with the DVLA. You can see the status of the checks, and view a log of all checks conducted.
Driving Licences
This area lists all of the drivers who are to be included in the automated licence checks.
View and Approve Documents
Any manually uploaded documents awaiting approval will be listed here.
Other Settings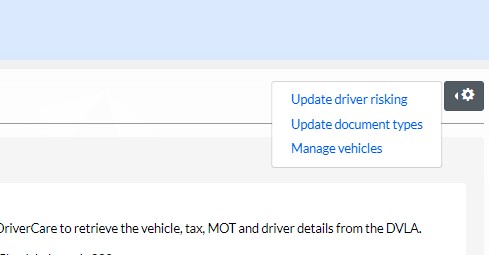 You will also notice the cog icon on the top right. Clicking on this will give you access to additional admin settings.
* This function requires DriverCare to be enabled